Recent Watercolor

"Alpenglow Reflections" (7 x 22") is my personal favorite painting of this year. I have been looking at so many "10 Best..." lists at year end I decided to pick my own favorite.
Latest News: Upcoming Shows and Activities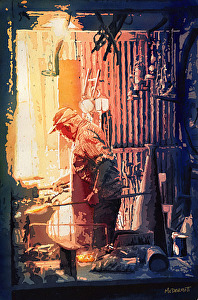 "The Blacksmith" (22" x 15") has been recognized as a Finalist is the June 2014 Boldbrush Painting Contest and has been accepted into the 46th Watercolor West International Juried Exhibition where it received the Henry and Fujiko Fukuhara Memorial Award. It has also been accepted into the April 2015 Watercolor Artist magazine's "Watermedia Showcase" as an honorable mention.