Recent Watercolor
"The Blacksmith II" (22 x 15") is a second painting done from a visit to an historic blacksmith shop in Angaston, Australia last Spring. I blogged about the visit in May 2014.
Latest News: Upcoming Shows and Activities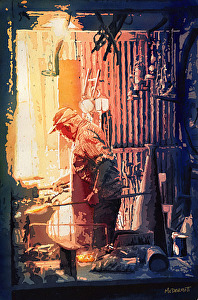 "The Blacksmith" (22" x 15") has been selected for the 38th International Exhibition - Watercolor Art Society - Houston. It was accepted into the 46th Watercolor West International Juried Exhibition where it received the Henry and Fujiko Fukuhara Memorial Award. It has also been accepted into the April 2015 Watercolor Artist magazine's "Watermedia Showcase" as an honorable mention.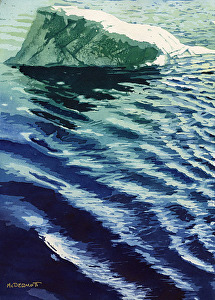 "Iceberg In Boat Wake" has been donated to the 27th Annual Anchorage Museum Gala, held April 11, 2015. This year's theme for the Gala is Art of Exploration, based upon the museum's exhibition Arctic Ambitions: Captain Cook and the Northwest Passage on view March 27 – Sept. 7, 2015. See Events for more information.